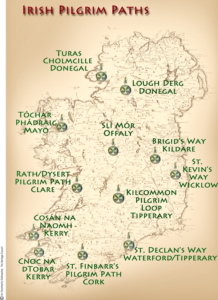 Ireland has its own Camino. Five of its twelve Pilgrim Paths, each named after a local saint, are now fully signed and certificated and form the Camino. You can read all about this on www.pilgrimpath.ie
St. Declan's Path, from Cashel to Ardmore, where Declan had his monastery before St. Patrick and where a round tower beckons pilgrims to his cave and well, is the latest path to be completed. Last week-end I spent a day at Ardmore's Round Tower Hotel with a special group of St. Declan's Way Pilgrims. They don't just want to walk the path in five stages once a year, they want to walk the inner pilgrimage every day of their lives. My nephew Sam Simpson, who is inspired by County Cork's St. Finbarr's Way, also came.
At a time when many of Ireland's church institutions have failed those they are meant to serve, some believers, instead of capitulating to disillusionment, seek to emulate Celtic mystics and to become inner pilgrims. The fourteen who met with me already meditate and pray in groups, but sought something more. They wanted to learn from the story of the Community of Aidan and Hilda how they might embrace a rule of life that enables them to become inner pilgrims.
They seemed open to 1) Be life-long learners 2) Journey with a soul friend 3) Keep a daily rhythm of prayer 4) Live as simply as possible 5) Celebrate and care for creation 6) Heal whatever is broken 7) Listen and be open to the Holy Spirit 8) Live and pray for good to overcome evil 9) Build community and weave unity in diversity 10) Share Jesus, justice and love for the poor.
But how to find soul friends and resources? The day's host, Bernadette Flanagan, founder of The Institute of Spirituality sustains a network of trained soul friends and can put inner pilgrims in touch with one [email protected]
The Community of Aidan and Hilda has many resources. Its catalogue of books was distributed and can be downloaded from http://www.raysimpson.org/userfiles/file/CA&H_Resources_Catalogue_2019.pdf
These include Waymarks for the Journey, a year's daily readings and prayer exercises on the ten waymarks. Any one may enrol for daily emails alternate weeks on the waymarks on www.waymarksoflife.com. To enrol for its course Igniting the Flame email Carol at [email protected]
.
'What are you, human life? … You are a road, to be traversed, not occupied. For on a road none dwells, but walks, that those who walk may dwell in their homeland' Columbanus.